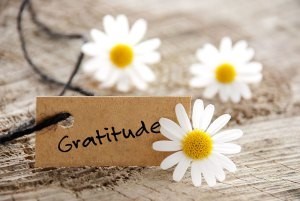 "Piglet noticed that even though he had a Very Small Heart, it could hold a rather large amount        of Gratitude." ~A.A. Milne – Winnie-the-Pooh
These days when it feels like we are constantly being faced with troubling news happening in our world, it can feel difficult to find moments of gratitude.  As we prepare for Thanksgiving and being around the table with loved ones, we often bring to mind the things that we are thankful for and expressing our gratitude to those around us.  It feels so good to receive words of gratitude from people you love, and feels even better to give those words of gratitude in return.   Why do we only think about being grateful during the holidays?  During this holiday we encourage you to adopt an "attitude of gratitude" on a daily basis.
"When people try to be more grateful, the benefits start to spill over into other areas of their lives. They start to feel happier, more optimistic, less depressed, and for children, more satisfied with school. Children who are more satisfied with school end up doing better academically, so gratitude could potentially boost students' motivation to study. Adults start to sleep better, exercise more, and feel physically healthier" reflects Sarah Konrath, Ph.D. in her book Using the Science of Gratitude to Raise Grateful Children.
Here at the Portsmouth Neuropsychology Center, we would like to offer some resources to help you and your family cultivate an "attitude of gratitude" on a daily basis.  We have also included some fun family games to play this Thanksgiving!
The following article offers three key features to making kindness powerful in our lives and in our relationships, including helpful daily exercises.
The Lead with Kindness Experiment
Check out the following resource which offers guidelines to making our statements of gratitude more "intimate and impactful" when they are done in person, which takes a little more effort in this digital age of communication.
Gratitude and Appreciation: Why We Should Induldge Daily
The following research-based practices can help increase gratitude in adults and children. Consider keeping a daily gratitude journal for two to three weeks. At the end of each day, write down five things that you are grateful for that day. Read about other strategies here:
Using the Science of Gratitude to Raise Grateful Children
Want to improve your relationship? The following article addresses how expressions of gratitude can promote relationship health.
Consider practicing one of seven gratitude exercises you can start to experience the many benefits of gratitude, such as keeping a gratitude jar.
7 Gratitude Exercises You Should Try Today
The following link providers 11 Thanksgiving Games to Play with Family- Including a Gratitude Scavenger Hunt.
Thanksgiving Games for Kids and Families
Happy Thanksgiving from our PNC family to yours!