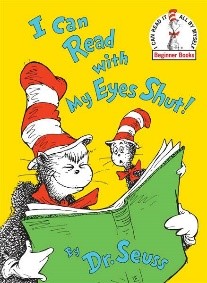 We would like to celebrate the joy of reading during the month of March in honor of the extraordinary Dr. Seuss, whose birthday falls during this month!  Through their fun and catchy rhymes and whimsical illustrations, his books have inspired a love of reading in both children and adults.  As Dr. Seuss aptly highlights, "The more you read, the more things you know. The more that you learn, the more places you'll go."
Critical Skills Needed to Learn How  to Read
Reading is a critical skill which requires an interrelated set of abilities.  Learning to read involves "breaking the alphabetic code" – translating the abstract symbols on a page into meaningful letters, sounds (phonemes), and ultimately words.  According to Dr. Sally Shaywitz in Overcoming Dyslexia, about 70-80% of children learn to read after a year of instruction.  For those remaining children who struggle in their literacy skills and have a reading disability, receiving an appropriate diagnosis from a psychologist is the first step.
Reading disabilities are also referred to as dyslexia or a developmental reading disorder.  For the majority of individuals with a reading disability, the two primary underlying causes involve phonological processing weaknesses (knowing the sounds that correspond with the symbols of our language) and rapid naming deficits  (the automaticity and overall efficiency a reader has when decoding text).  Up to 15% of the population may have a specific learning disability in reading.  Many children and young adults – including very bright ones –  can struggle with reading, which can affect the trajectory of their academic and vocational futures.
Red Flags of a Reading Disability
Starting in preschool, there are warning signs that a child may struggle with a  and continuing into grade school and up through high school,  there are specific signs that parents, teachers, and other professionals look for to determine if a child may be showing having difficulties with the reading process.  A few examples of these signs include (note they are not exhaustive and may overlap across various grades):
Early Childhood/ Preschool:
Delay in speaking
Difficulty in pronunciation
Difficulty rhyming words
Word retrieval challenges
Difficulty following directions
In Grades K-4:
Learning the alphabet (names and sounds)
Letter/number reversals beyond the second grade
Cannot remember sight words or vocabulary words
Slow to remember facts
In Grades 5-8:
Avoids reading aloud
Trouble with word problems
Challenges with comprehension
Reads slower than same-aged peers
In High School and Adults:
Continues to misspell words
Challenges summarizing
Memory challenges
Difficulty understanding abstract concepts
Avoids reading and writing tasks
Check out the following resources for common signs of reading difficulties:
Common Signs Of Learning Disabilities
Early Signs of a Reading Difficulty
Practical Strategies to Make Reading and Writing Fun!
Reading is one of the most important skills our children need to be successul in school and in life because it is used across all subjects.  Exposing your child to books and reading aloud to them from the very beginning are the most effective ways to introduce a love of reading and create a literacy enriched home environment.  Click here for  25 activities for reading and writing fun  from birth through 6th grade.
The following resources provide reading expectations at the end of each grade level, activities to help with reading, and book lists/technology options.
Parent Guide to Reading Ages 6-7
Parent Guide to Reading Ages 8-10
Parent Guide to Reading Ages 11-13
Check out the following seven sites where you can download free audio books.  For struggling readers or individuals with a learning disability, audio books present an alternative way to "read" and can also supplement the individual's printed text.
If you would like to discuss any concerns you have about your children's reading or other academic/cognitive skills, Dr. Rubin and Dr. Cook are available for a consultation.
Happy Reading from all of us at the Portsmouth Neuropsychology Center!